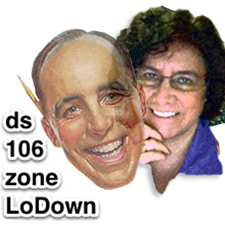 As scottlo fades into the airwaves and twitter feeds [EP:25] Rockylou has stepped up once again to fill in on the LoDown. Jim Groom and Mikhail Gershovich posited a number of theories yesterday in episode 27 for Scott's sudden and unexplained departure – from joining a rebel group to getting a much deserved PAID gig with one of the big MOOCs.  But he hasn't totally abandoned us. Thanks to the wonderful world of recorded audio, we're able to listen in on a recent Skype chat between the Lo and the Lou to witness the birth of the audio self-reflection project.
Scott was concerned about the amount of work that it would take to produce and post the DS106 self-reflections. But, as I surmise in this previously recorded chat, I've only had three submissions so far, four if you count mine. Not a whole lot of work to do here.
So where are you all? We'd love to know who you are, how you found yourself in DS106, and why you're still here.  Especially the UMW students in this insanely compressed 5 week summer course.  I'm making it easy.  You can send me a tweet @rockylou22 , fill out the contact form to submit your own 3-5 min audio file, or schedule a Skype chat with Rockylou.  You can even earn stars with AudioAssignments1119.
And, thanks to Sean's twitter comments [Twitter Feed] there's a new audio assignment [AudioAssignments1121] for those of you who can't stomach all those glowing self-reflections about what's so great about DS106. Have a little fun and make a parody by recording a 3-5 minute "self-reflection" from the point of view of a disgruntled student, teacher, or open-onliner, etc.  Start by creating an obviously fictitious name and location, then let 'er rip.  Maybe use a different voice, and some strange background music.  Provide a thumbnail image that will grab the reader's attention when they scroll down the list.  Here's an example of a self-reflection you can poke fun at.   
[soundcloud url="http://api.soundcloud.com/tracks/97118950″ params="" width=" 100%" height="166″ iframe="true" /]