My DS106 maxim of Reduce, Riff & Recycle has once again resulted in a fun, creative morning project.  Ewww Brain… Now in 3D!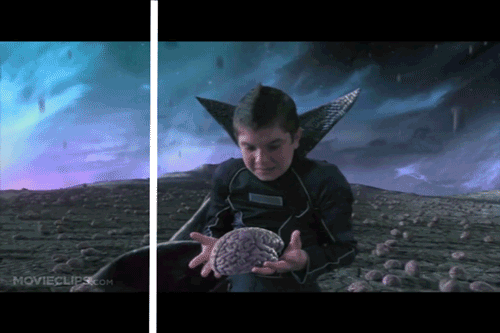 Last August,  DS106's Talky Tina created daily GIF challenges to keep our creative juices flowing while we were waiting for the DS106 Headless '13 course to begin.
Talky Tina's DS106 animated GIF challenge August 2013 GIF Challenge #10: Monster Chiller Horror Theatre 3D Style GIF  was to:
…look for a part of a scene in a 3D type movie where the thing comes right out of the screen at you.  Find a way to emphasize the moving of the thing out of the screen and into your face in a GIF.
 Ewww…Brain! was my answer to the challenge taken from a  Sharkboy & Lava Girl- May The Best Dream Win movie clip on YouTube. (Link to original blog post for the 'how it was made.') Today while trolling my Twitter home stream a DS106 exchange about how to make a 3D GIF with the use of white lines caught my eye. (See twitter feed below.) The illusion reminded me of John Johnston's GIFaChrome Layercake technology  that I hadn't tried yet. I decided to give it a go andd watched the video tutorial recommended by Mariana Funes.
Using the original Photoshop CS5 file from the Talky Tina challenge I created one white (two seemed excessive) mask line.  I'll be honest.  I'm not sure how I managed to create a layer mask instead of the intended solid white line demonstrated in the video tutorial.  But who's going to complain? It made things much easier in the Studio B production department this morning.  Lucky me!
Next, all I had to do was erase the portion of the line where the brain was popping out of the screen. Hmmm…. What to do with the brain goo as the brain slides down the screen?  That presented a creative challenge all its own. It looked way cooler if I adjusted the erasing opacity to 50% instead of 100% to enhance the illusion of sliding down a glass surface.  One final visual feature was to use the lasso tool to cut out a brain and have it slide down over the black border of the movie trailer clip.
Looking forward to using this technique in the future.  Below is the Twitter conversation that sparked this project.