UPDATE 12/06/13: Check it out we were featured on the GIFaChrome Connects blog.
Another fun aspect of DS106 being an open online course that attracts global participation is that you can go to bed at night (usually way past a healthy bedtime because you just "had" to finish one more thing on that project) and wake up in the morning to find a comment on your posted work, or better yet that someone(s) have delightfully riffed on your creation. DS106 Never Sleeps! Such was the case with my DJ at Stonehenge photo I originally created for ds106 daily create tdc669.
From Wikipedia: A flash mob (or flashmob)[1] is a group of people who assemble suddenly in a public place, perform an unusual and seemingly pointless act for a brief time, then quickly disperse, often for the purposes of entertainment, satire, and artistic expression.[2][3][4] Flash mobs are organized via telecommunications, social media, or viral emails.[5][6][7][8][9]
Here's what the ds106 flash mob created between 11/11/13 to 12/06/13:
It's all a dream reflected in Alice's looking glass as shown by Cathleen Nardi.
It gets curiouser and curiouser when a patch of spinning mushrooms and the  Cheshire Cat show up.
Over night another patch of mushrooms spring up and smoke is seen gently rising from within.
Colin dog is spotted lurking in the trees holding his stick ready for play.
Alan Levine's radioactive caterpillar notices the smoke rising among the mushrooms and crawls on back to see if his buddy is hanging out there.
Cathleen Nardi notices a rabbit hole appearing in a flash in the bottom left corner with a pair of ears just poking out.
Rochelle Lockridge coaxes the little white rabbit out of his hole.
The story is captured with the new GIFaKidChrome imager in development over at the GIFaChrome labs.
You can witness the evolution of the composite image right here as it unfolds. I plan on updating this blog entry if it morphs further.  And links are provided to the posts so you can follow the comments and story line as it develops.  (Suggestion: By subscribing to comments on this post you can get the latest updates directly.)
Note: All of the image GIFs and layered .psd files are attached below so anyone can join in the fun. Most current Photoshop file can be downloaded here. 
Original Photos and evolution of our ds106 flashmob collaboration:
Nov 9, 2013 @7:57pm Minnesota, USA or 9:37am Hawaii or Nov 10 @12:37am Scotland
Photo 1 + Photo 2 + Rockylou's sense of humor+ Photoshop CS5 => DJ at Stonehenge for ds106 daily create tdc669: "Take a photo of something very small and make it look big."
Some little blonde girl gave DJ a mushroom while visiting Stonehenge. He took a bite of the lefthand side before we had a chance to stop him. This is the result.  No need to worry though. He took another bite on the right hand side and was back to normal by the time we returned to the tour bus.
Let The Riffing Begin!
Nov 11, 2013 @12:14pm (6:14pm Scotland, 8:14am Hawaii )
Nov 11, 2013 @1:52pm (9:52am Hawaii)
Nov 11, 2013 @11:38pm (Minnesota, USA)
It gets curiouser and curiouser with the addition of spinning mushrooms and a Cheshire Cat.
Downloadable Spinning Mushrooms + Cheshire Cat Photoshop CS5 .psd
Downloadable Spinning Mushroom .psd

Downloadable Cheshire Cat .psd
Nov 11, 2013 @12:34pm (6:34pm England)
Mariana Funes shares this beautiful GIF  in a post to ds106 Google+ Community wondering how it was made.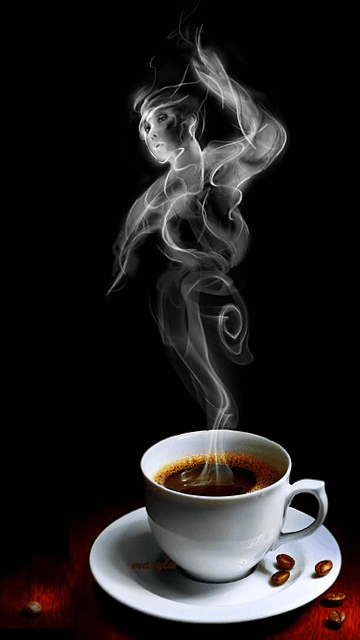 Nov 12, 2013 @7:05am (Minnesota, USA)
Rockylou reports more mushrooms sprouted up over night and smoke is seen wafting up from behind. Observations posted to ds106 Google+ Community.
Cropped Smoke GIF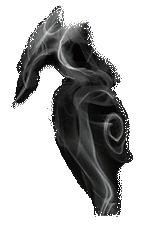 Downloadable Cropped Smoke .psd file
Nov 14, 2013 3:07pm (9:07pm, England)
Mariana captures Colin lurking in the trees, wondering what the cat is grinning at and is that girl going to throw him a stick or not.
I can see Colin coming out of the back trees to scare that grinning cat.  I was thinking about using  this http://theds106shrink.tumblr.com/post/58186170782/i-managed-to-get-colin-dog-to-wiggle-yes-the and adding it to it 🙂
Nov 14, 2013 @11:15pm ( Nov 15 @5:15am England)
Rockylou couldn't stand seeing the rogue white background flashing through on the spinning mushrooms and fixed it while creating a new clean .psd file adding Colin dog as its own layer.
Screencast tutorial on adding Colin to the Photoshop file as a single layer.
Colin Dog original photo by Alan Levine
http://www.flickr.com/photos/cogdog/10545712185/
Transparent .png of Colin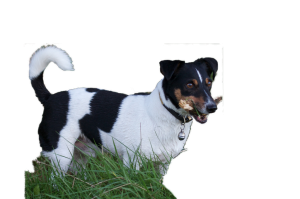 Nov 15, 2013 11:00am.
Alan Levine's "radioactive" turquoise caterpillar joins in.  He's last seen crawling up towards the mushroom patch in the back to check out if his buddy is back there.
Download the Photoshop .psd file here.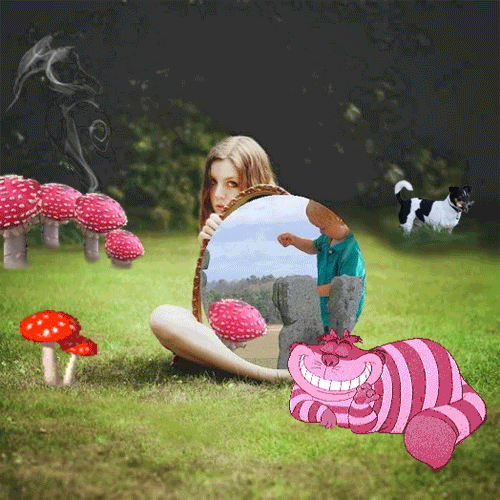 Nov 20, 2013
Cathleen Nardi adds the rabbit hole we last talked about.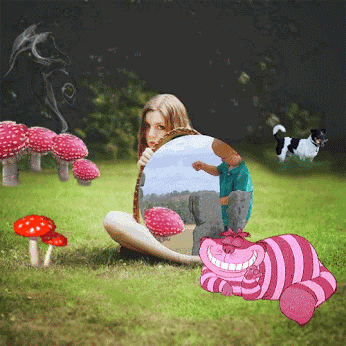 Dec 06, 2013
In participation with the DS106 GIFaChrome final project Rochelle Lockridge adds a white rabbit popping out of the hole and turns it into a GIFaKidChrome image.