[soundcloud url="http://api.soundcloud.com/tracks/96827590″ params="" width=" 100%" height="166″ iframe="true" /]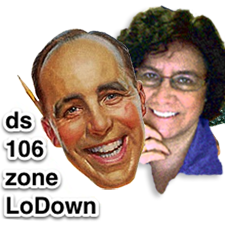 This is Rockylou unexpectedly stepping up to host episode 26 of the DS106zone LoDown.  Yesterday, sadly, Scottlo signed off for the last time as host of the LoDown. It was a question of time and the constant demand to produce for us something interesting and of value everyday.  I personally wish him the best as he prepares to leave Saudi Arabia to return to the US in 4-5 weeks.  I've learned a lot working with Scott the last few weeks, and I hope I'll have a chance to work with him again in the future.  Good Luck Scott!
As you may have heard, Rockylou created a project to collect audio self-reflections of the DS106 experience: Who are you? What brought you to DS106?  And why in the world are you still here? In this 26th episode of the LoDown I share two of those self-reflections that just arrived from Alan Levine (CogDog) and open on-liner John Johnston from Glasgow, Scotland.
To submit your own self-reflection or schedule and record a Skype chat with Rockylou complete this contact form. Two new DS106 audio assignments have also been created: AudioAssignments1119 , AudioAssignments1122 Parody
So now what do we do without Scottlo? We step it up a notch. Put on our "A" game and all pitch in to produce the remaining 10 daily episodes of the LoDown. I'm on deck for this episode and I have at least 2 more up my sleeve.  I don't want to give away too much, but thanks to the wonders of recorded audio, Scottlo may be making a future guest appearance on the LoDown.
We only have 9 more episodes of the LoDown to go.  We can make it to 35 if we work together.  Are you game to give it a go? You can contact Jim Groom, leave a comment for Rockylou, or tweet to @Rockylou22,  and we'll get you on the air.  It can be a lot of fun. And an extra special bonus?  You get to play your own stuff.  You don't have to wait with baited breath through each and every episode of the LoDown like Brian Bennett.  Here you go Brian. You've been featured on the LoDown.
CREDITS
The background music under Rockylou's intro is a self-recorded version of "Can't Find My Way Home", written by Steve Winwood. (Often attributed to Eric Clapton.) The lyrics of the chorus have been modified to:
Near the end and I just ain't got the time
To be wasted 'cause I'm findin' my way home.
John Johnston self-reflection:
Music soundtrack: "Days Of Freedom" by In The Nursery. 

Ambient background was audio captured from an afternoon with my grandson, DJ, playing in his backyard.