Page 2 - Noir106 Femme Fatale
P. 2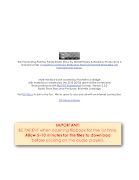 The Fascinating Femme Fatale Radio Show by DS106 Players & Rockylou Productions is licensed under a Creative Commons Attribution-NonCommercial-ShareAlike 4.0 International License.
Multi-media e-book curated by Rochelle Lockridge
with material co-created by the 2015 DS106 open-online community Book produced with Flip PDF Professional for Mac. Version 2.2.0 Radio Show Executive Producer: Rochelle Lockridge
Visit DS106.us to join in the fun. We're open to any and all with an internet connection. DS106rad.io/listen
IMPORTANT!
BE PATIENT when opening flipbook for the 1st time.
Allow 5-10 minutes for the files to download
before clicking on the audio players.