20 Steps til He!! Freezes Over At least that's all it takes in Minnesota this year.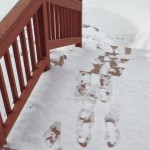 Did you know that your iPhone will shut down if it's out in 8°F for less than 10 minutes? I do… For DS106 Daily Create TDC 780 it was easy for those of my fellow DS106ers to create a video by stringing together 20 clips taken every 20 steps.  That it was a little harder for me to complete this vimeo weekend challenge in the middle of winter in Minnesota would be an understatement. (We have 20″ of snow on the ground this year.) While I wasn't able to do a 20-20 I did end up with 14 clips. Half of which were taken inside the house before I even opened the door to the arctic winter wonderland called Rochelle's front driveway.  
Not only did my phone shut down, my freezing fingers were close to frost bite by the time I made it back into the house.  I  think it's time for me to invest in a pair of those cool gloves that let you use your touch screen controls.  BRRRR!!!!! Once I safely made it back in, my fingers warmed, and my poor little phone came back to life, I downloaded my video clips with the Phototransfer app. There I imported them into Adobe Premeire 12 for video editing.  I had talked about doing this project last night with my daughter Amber who recommended the song I used…
It took some creative problem solving to use all 20 seconds of each of the clips and end up with a completed video sequence that was only 3:20 min verses 4:40 min. The trick was to use the time stretch effect.  I kept a few clips inside the house at normal speed. The outside clips were sped up by 150% to 200%. From experience taking panoramic shots by hand, I knew I how to pan relatively smooth and slow.  So when the video sequence was sped up you didn't feel like "hurling" from motion sickness.
And I learned a new technique today.  To reverse the video you put in -100%.  That allowed me to create a better flow of the camera pan to be in one direction instead of the back and forth way that I had taken the original video. I chose not to talk while shooting the video.  Glad I did.  I was able to add two sound effects at the right places: Footsteps in Snow and Arctic Wind Blizzard Snow Whistle made available for easy use with the in program audio effects on Premiere Elements.
That's it.  Post completed while I waited for the video to render and upload to YouTube.  I apologize to those of you, like Stefanie Jeske in Germany, who won't be able to see the video because I chose this time around to use a third-party copyrighted song.  I rarely go that route, but the song fit so well.  It gave me a giggle and having my little dog Abby be my love keeping me warm put me over-the-top.