Surfer Dudette had her last wipeout on Nov 18, 2013.
To ease my grief I wrote a poem (with Humpty Dumpty as my model) and produced the video Ode To Surfer Dudette in memoriam. Her tenure on my mantle and her guest starring roles in DS106 Daily Creates have come to an end.
Her first appearance was a stop motion daily create  "Surf's Up Dudette" back in July. Then she reappeared Riding the Dopamine Wave , which led to a recurring role as a DS106 Daily Create random image.  This video is in memoriam of her time here. I graciously thank Cathleen Nardi , Talky Tina and Alan Levine for their art and inspirations that added to my tribute. As well as my friend Beth who accidentally dropped her and unleashed a "big wave" of creativity.
Aloha `oe my poor little nalu wahini.  A hui hou kakou. 
ODE TO SURFER DUDETTE 
Surfer Dudette… a gift from her daughter
Surfer Dudette… she surfed in the water
DS106 projects and daily creates
For creativity she highly rates
Surfer Dudette… on the mantle she sat
Surfer Dudette… from her perch she did SPLAT!
With Rockylou's Resources and Rockylou's Spin
We've made Surfer Dudette a star once again.
The Production:
The video was produced with doctored images in Photoshop Elements 12.  The selection tool was used to pull Surfer Dudette from her perch on the DS106 Nordic Track.  She was overexposed in the original photo, so I had to make adjustments with the brightness, contrast, hue, and the burn tool to adjust the color and darken her a bit.  Lots and lots of fiddling around!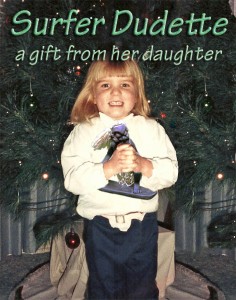 She was placed in various locations by adjusting her size and rotation.  For some of the composite photos, like when my daughter is holding her in front of a 1986 Christmas tree, I needed to use the selection tool again to capture pieces of Jenny's hands to make new layers that could go over the top of Surfer Dudette. (She was actually a gift from Jenny given to me only a few years ago after a trip to Florida.)
The circling birds were a great find in the animated effects that came with Adobe Premiere Elements 12, my video editing software.
Getting the text font, color, style etc. to look nice and consistent was a much bigger deal than it looks.  I tried all sorts of versions before I settled on the one you see in the video.
The final video segment was from her first appearance in my stop motion video "Surf's Up Dudette".
The Hawaiian words above were found on-line at  http://hawaiian-words.com/basics/common/.  My apologies to Cathleen Nardi if I've used them incorrectly.
Aloha `oe (farewell to you)
Nalu (wave or surfer)
Wahini (woman)
A hui hou kakou (Until we meet again)
A few more Hawaiian words I wanted to use but couldn't figure out how to fit them in.
Kai (sea, seawater, seaside)
Ohana  (family)
Tutu (Affectionate name for grandmother or grandfather) – I just loved this one.  @Rockylou22 is the perfect twitter handle now.
Attributions:
Link to Seagull Sounds: http://freesound.org/people/juskiddink/sounds/98479/
Music:
 Special Thanks: